Choose a Washington Plumber CE Course & Get Started
Choosing a Washington plumber continuing education course is easy with CE Made Simple.  You will need your state plumbing license number and an account with us.  Your account will track all of your course completions and provide certificates.  To begin, select your course below.

Washington Plumber Continuing Education Courses
The following courses are APPROVED by the Washington State Department of Labor & Industries.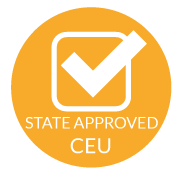 ---
 – Codebook Recommended
 – Fully Illustrated Course
State of Washington Plumber Continuing Education Requirements:
All journeyman and residential specialty plumbers must obtain 16 hours of approved Washington plumber continuing education within a two-year cycle.
Plumber trainees must complete 8 out of the required 16 every year.  Courses must be Washington Continuing Education approved and must be taken during the renewal cycle.
All Available CE Made Simple Courses have been pre-approved!
Within each two-year cycle, a plumber must complete these requirements:
A Minimum of 8 hours of Plumbing Code Related Training, plus
A Minimum of 4 hours Industry-Related Electrical (IRE), plus
4 additional hours from Code-related, IRE, or Industry-Related Plumbing.
Visit Washington State Department of Labor and Industries' Official Website HERE for more plumber continuing education information.